Hotshots was booked for the happy couple's wedding party at the lovely Priston Mill on the 30th November 2019.
The bride and groom booked our silver disco for the evening along with DJ Morf. It was a fantastic evening with load of dancing, smiles and laughter. Neil Atkinson was the photographer booked for the day and it was lovely to see him in action again. The cheese cake they had was amazing, it looked so nice and tasty.
First dance
The first dance was Nathan Sykes – Over and Over Again which was beautiful for them both. Straight after we got everyone up on the dance floor to Mambo No.5 as requested by the bride and groom. Everyone loved dancing to this, taking you back in time for some party moves.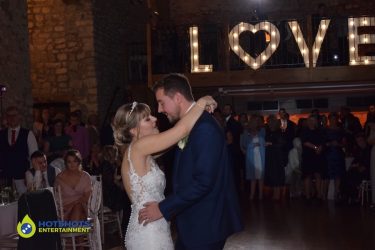 Dancing
The bride and bridesmaids wanted to do a dance to the Spice Girls which they did on the hen do. This was great to watch and got a couple of snaps as well. A few requests were made on the evening and loads of shapes were thrown, it is always nice to see everyone just getting up and having the best time ever.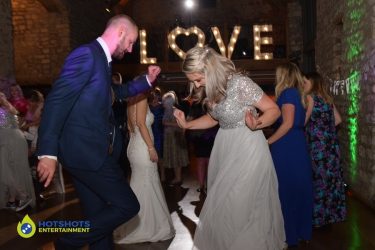 Pictures
I did take some pictures on the evening of people dancing and having an awesome time. You can see a few below and the rest you can find HERE. Please feel free to download or use them as your profile picture etc. It was nice to see Lewis Hutton and Katy on the evening as Katy was a bridesmaid.
Venue
Once again the venue and the staff were amazing, such great work. The grounds look stunning in the winter time as well as the summer, the perfect venue all year round for a wedding party.
Thank you for booking with Hotshots Entertainment, we wish you both many years of happiness together.
Regards
Morf